This store requires javascript to be enabled for some features to work correctly.
Why are we here? To deliver value. To make you beautiful. To help you look and feel amazing. IDN hair means "I Define Natural", means you define your Natural with IDN hair.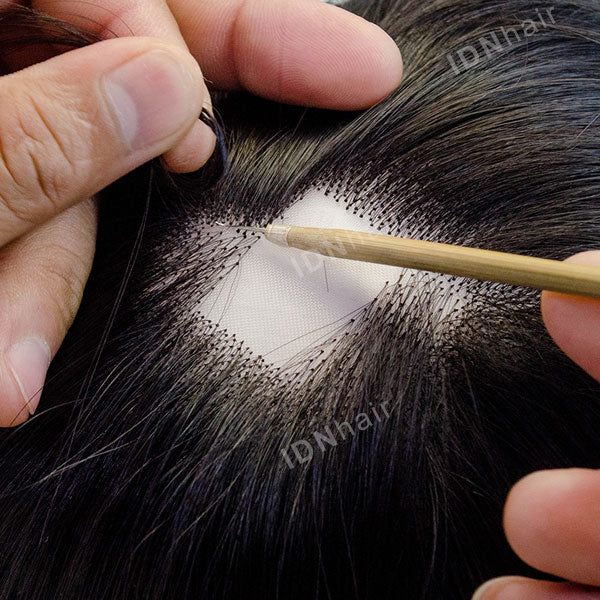 Advanced ventilation techniques
Single split knots and double split knots are two kinds of new ventilation technologies for IDN hair systems. IDNHair Craftsmen use different methods in different areas to create a natural look and fit the customers' desires. These wig knotting technique allow IDNhair to be more undetectable and durable.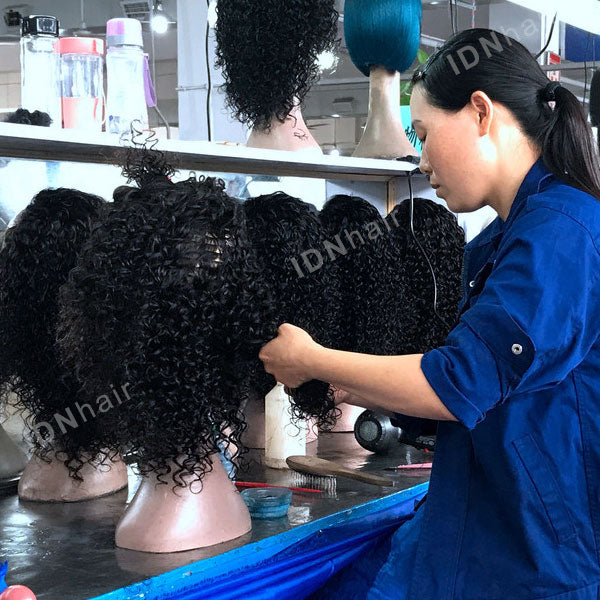 IDNhair done EVERYTHING for you
IDNhair factory since 2012. We specialize in BOMB WIGS! We done EVERYTHING for you, the pre-plucked hairline, Scalp Knots method, bleached knots & Sewed elastic band. We are always here to help you define NATURAL. Beyond giving you natural wigs, our mission is to inspire confidence and empower you to look and feel your best.
Why Choose Scalp Knots Wig?
You may doubt what scalp knots wig is, let us talk about them from the wig making process and their pros & cons.
Wig Make Techniques:
Normal Knots: Tick one hole Blank two hole, 3-4 Strands every lace hole.
Invisible Knots: Tick one blank two hole, 2-3 Strands every lace hole

Scalp Knots: Tick one blank one hole, 1-2 Strands every lace hole

Pros & Cons:
Normal Knots: Wig can be very full, but the knots is obvious, it is not natural.
Invisible Knots: wig knots is smaller than normal lace, but density is less than normal lace.
Scalp Knots: The wig knots are thinnest and the density also can be very full.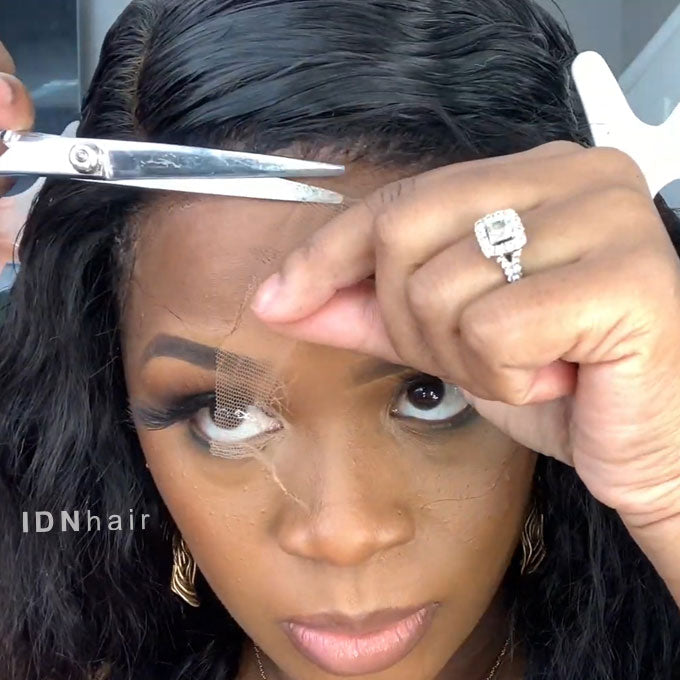 Easy to cut lace
5x5 Lace closure wig is a kind of closure wig, the area of lace part of the wig is 5 inches wide and 5 inches long. It's big enough to do free parting.It is easier and more convenient for a wig beginner to install, as well as easier to take care of, it is a beginner-friendly wig type. You can easliy cut off the lace.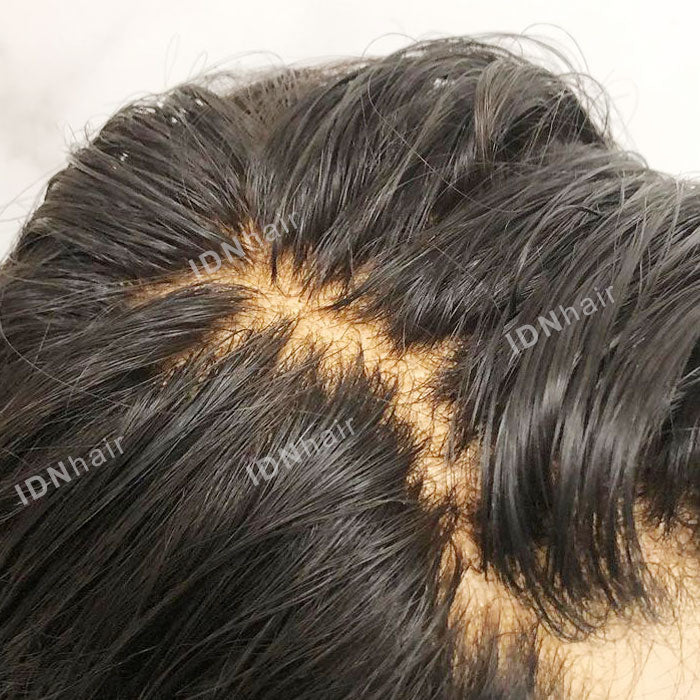 Bleach Knots
To reduce the visibility of the knots and make the lace wig look more realistic, IDN do the bleached knots service. The bleaching is a process that uses chemical products to make the knots a few shades lighter. Bleached knots look very natural as it makes the hair look like it is growing from your scalp.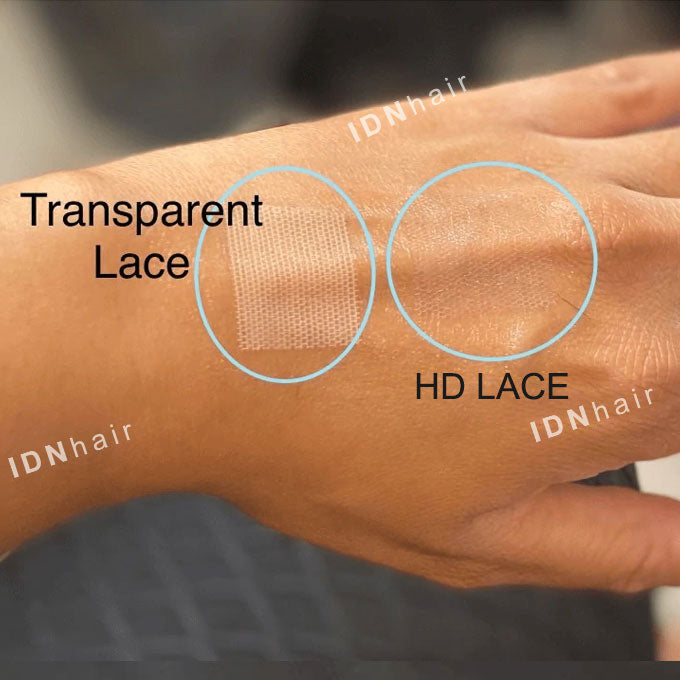 HD LACE
HD lace is a royal lace material, which is invisible when applied to the scalp. This ensures that the wig-wearer can have an exposed hairline, which looks very natural and renders the lace along the hairline highly undetectable.The lace is thinner and more see-through, it is durable and comparatively soft.
Share your IDNhair on your social channel and tag us @IDNHair to get featured here
Frequently asked questions
How to choose correct cap size?

Before you start to measure, clip your hair as smoothly and as tight as possible.1.Circumference: Place the tape measure along the hairline and rake the head in a circle.2. Front to Nape: Measure from the center of the forehead backward along the top of the head to the back of the neck.3. Ear to Ear across forehead: Measure from the left earalong the hairline to the rightear.4. Ear to Ear over top: Measure from the left ear along the top of the head to the right ear.5. Temple to Temple round back: From temple to temple across the back of head.6. Nape of Neck: Measure the width of hairline across the nape of the neck.

Cap size Small: Circumference21.5 Front to nape14.0 Ear to ear across forehead 11.5 Ear to eear over top12.0 Temple to temple round back14.5 Nape of Neck4.5

Cap size Medium: Circumference 22.5 Front to nape14.0 Ear to ear across forehead 11.5 Ear to eear over top13.0 Temple to temple round back15.5 Nape of Neck5.0 

Cap size Large:Circumference 23.5 Front to nape 15.5 Ear to ear across forehead 13.0 Ear to eear over top 14.0 Temple to temple round back 16.0 Nape of Neck  5.5
Which means of payment are accepted by IDNhair.com?

We can accept Paypal / Credit Card / Debit Card payment. Such as MasterCard®, Visa®, American Express®, Discover®,ect. You should enter your credit card or debit card number, its expiry date and its card verification number on the relevant page. Payments via Paypal®. 
How long it will delivery take?

Idnhair mostly uses DHL and FedEx.
For stock wigs, you will receive the wig within 3-5 days.
There will be some delays for processing orders during our peak season. Sincerely appreciate your understanding.
If the wig is not available now, it need extra 5-7 working days to process after payment received.

If you need the wig urgently, please check with our online service to see if the wig is available now.
If the wig is available, we will mail it out within 24 hours after receive your payment. We send tracking numbers by email within 24-48 hours after your order is shipped out.  If you don't get the tracking number regarding to the table above, please don't hesitate to contact our customer service(service@Idnhair.com) for further information.

Predominantly for security reasons, Idnhair.com will not process any order for which a P.O. box address has been provided.
How to care & wash my wig?

All our wigs are clean and healthy to wear it directly. Deciding if you want to wash it before wearing it is really a personal choice. We suggest to do deep condition for the wig once every one to two weeks, if the wig begins to feel sticky or dry, it may be time to give it a rinse. Avoid hot water, saltwater and chlorine to prevent any damage to the strands. Gently hand wash while soaking in cold water. Avoid scrubbing or rubbing the hair, as this could damage the strands. Use a towel to lightly blot it and then leave it on a wig stand to air dry. Avoid using a blow dryer and brushing
the hair until the lace is completely dry. The more careful and gentler you are to human hair wigs, the longer it will last.
Choose the ID of the Quiz you want to render (automatic popup):
Buyer- First Survey with ID: BZHMkY
Final Survey with ID: rkHxmg
Complete Survey to win Free Wig with ID: xVHYVQ