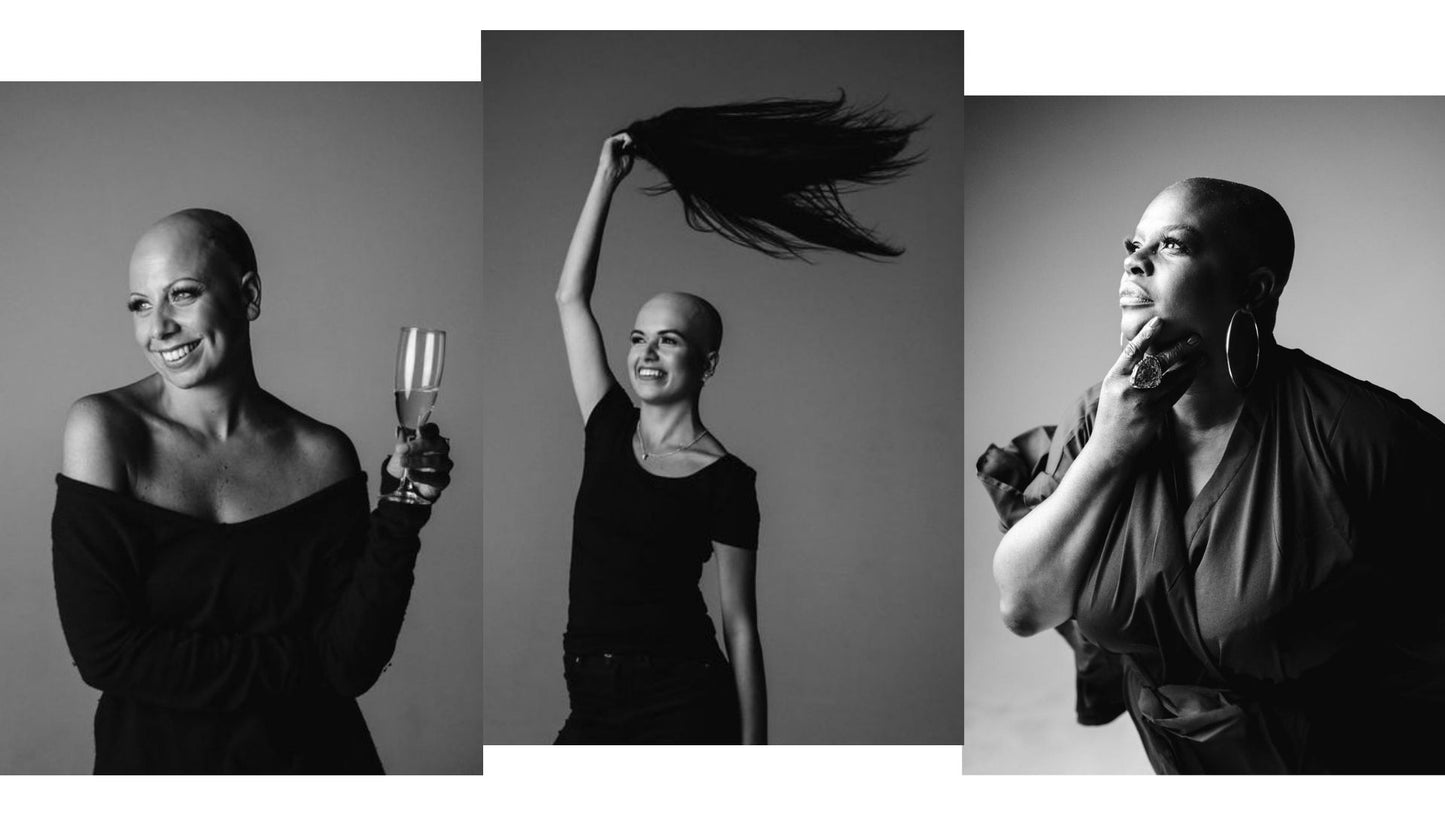 Can I Wear A Lace Front Wig If I Have Alopecia?
Daliyah Sally is one of our customers. She's 21 years old and has been suffering from Alopecia for almost three years. It was an October day. She woke up and found full of hair on her pillow. She had a hard time staying confident because she got used to having her own hair and being able to do whatever to it. It's also hard to stay confident when she wants to embrace her baldness. People stare at her when she's out.
She came to us and asked if she could wear a wig with Alopecia.
It is no problem to wear a lace wig if you have Alopecia. We want you to see another option if you have Alopecia or some balding experience you've gone through. You can have a natural-looking appearance.
The most important factors for Alopecia are comfort wear and a realistic looking. When starting a wig buy, you need to consider the following details.
Five Points To Consider When Buying Lace Front Wig For Alopecia
Whether It Is 100% Human Hair?
We only recommend wearing 100% human hair wigs for ladies with Alopecia Areata. Synthetic fibers or blended hair might cause allergies or other problems.
Whether It Is Scalp Knots Or Invisible Knots?
Scalp knots and invisible knots are smaller. That makes the wig look more realistic than the usual wig technique.

Normal Knots: Generally 3-4 strands on each lace hole. The black spots are attractive.

Invisible Knots: Generally 2-3 strands on each lace hole. The black spots are much smaller, and the wig looks realistic after bleaching the knots.

Scalp Knots: Even more invisible since there are only 1-2 strands on each hole. It looks like the hair is growing out of the scalp.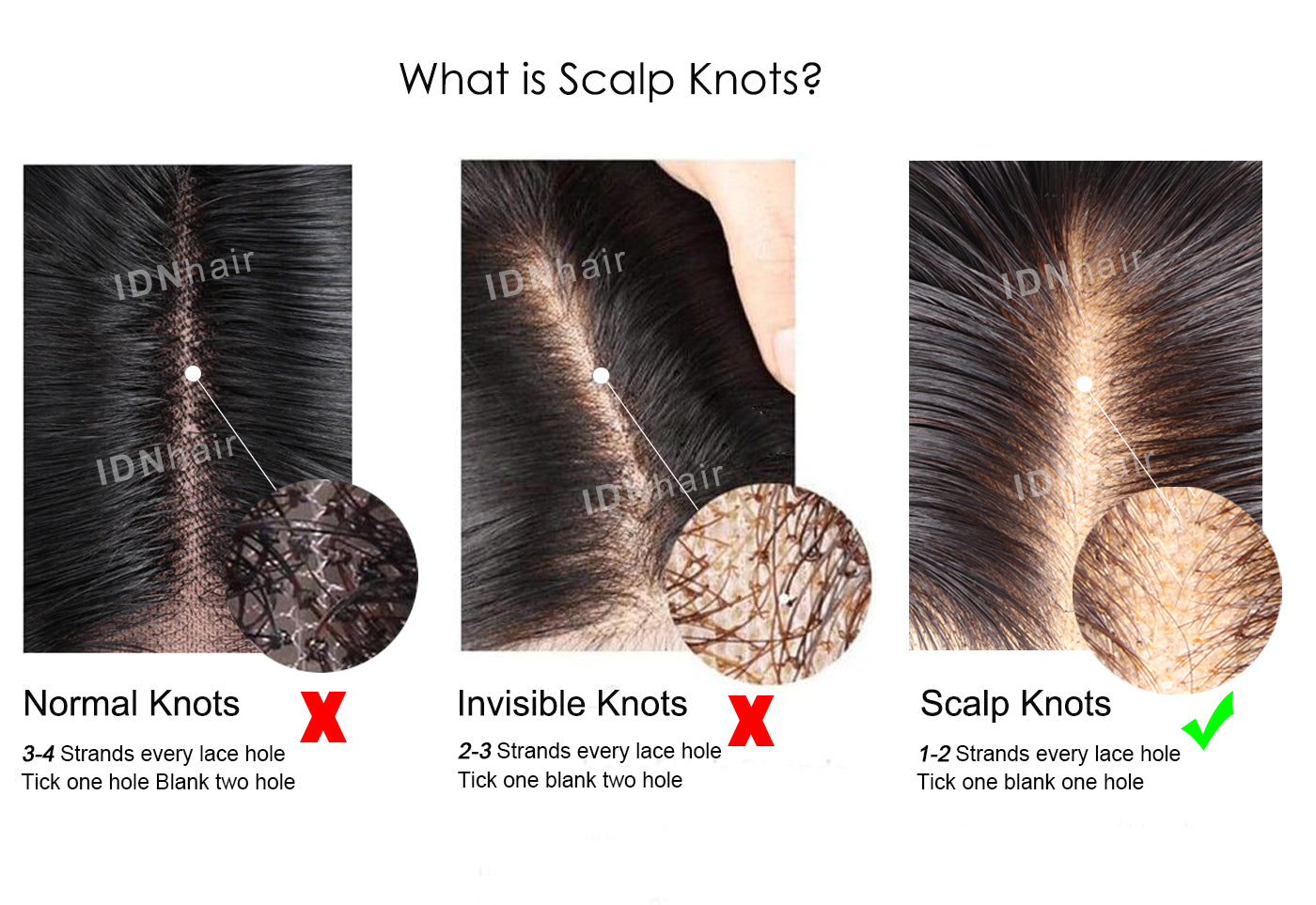 Whether Enough Lace Space?
The lace area allows you to style the wig as you like. You can get a middle, left, or right part without adjusting your wig unit.
Whether A Pre-plucked Hairline?
Having a pre-plucked hairline is a significant point in achieving a natural looking. Check the photo shootings and see if they have plucked the hairline. You will save lots of work and install the wig without effort. It's important if you don't want to spend hours dealing with the hairline or have a dull look after wearing a wig.
Whether It Is HD Lace?
HD lace is very soft, making it very comfortable to wear. Also, HD lace is super thin, and it melts right into the skin, making the wig look as natural as possible.
Be sure to read the descriptions and confirm all these details with the seller before you order.

If this is your first time trying a lace wig, our recommendations are lace front wigs or full lace wigs.
Human Hair Wigs Recommendations For Alopecia
Lace Front Wigs
Lace front wigs are great for ladies with hair loss at the front. The lace frontal allows you to style the wig whatever you want.

You can also wear lace front wigs without any glue, as long as you attach an elastic band to help it stay in place.
Full Lace Wigs
Full lace wigs are also known as full hand-tied wigs. They are great for those suffering from Alopecia Areata, especially complete hair loss. There're no weaves on the back. You can do any styles that you do with your own hair. People won't even notice you're wearing a wig!
Well, you know better how to choose a wig now. It's better to order on Amazon or brand stores. Suppose you're unfamiliar with human hair wig brands. In that case, you can go to social media like Youtube to check some reviews from others.
How To Wear A Lace Wig For Alopecia?
Simply Sherelle showed a quick installation with the bald cap method in this video.
In this video, Kie RaShon had a very detailed installation tutorial from start to finish.
Highlights listed for your reference:
1. Remember to wear a wig cap
Wearing a wig cap would help you protect your scalp and skin. There're clips and combs inside the wig. It has the potential to damage your skin and create friction.
2. Keep Your Skin Clean
Keep your skin clean, especially when you install the wig with glue. The makeup might interfere with the products you will use.
3. Walk Around Your Room With The Wig Before Cutting The Lace
Put the wig on and walk around your room for a while before cutting the lace off. Doing this gives you a better feel if the wig is too tight for your head.
With some practice, you will have good skills in wearing a wig with a natural looking.
Conclusion
If you have Alopecia or experience hair loss, you can choose to wear lace wigs. We hope you find a way to go through all your struggles. All women deserve to feel beautiful.